COVID-19, we will get over you!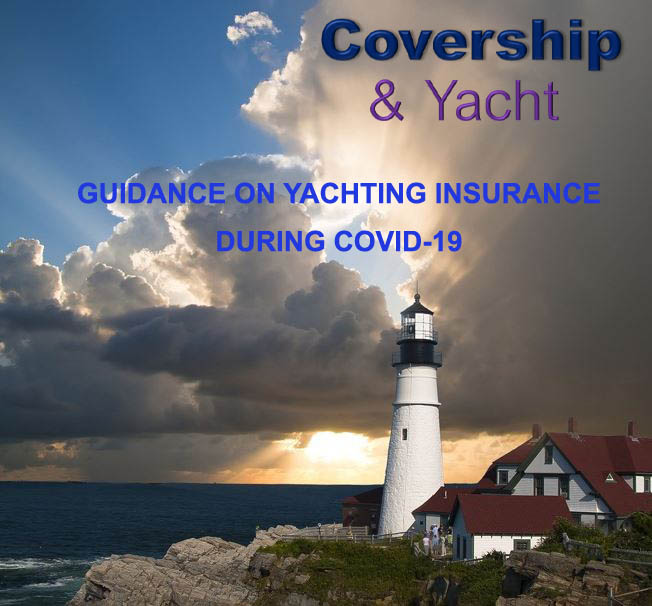 COVERSHIP & YACHT : Guidance on yachting insurances during COVID-19
This nasty virus already affects us all, the COVID 19 has direct and indiscriminate consequences on our personal and professional life and that of our crew members, yacht owners and charterers.
To what extent can our yachting community turn to the insurance industry in order to mitigate the consequences of COVID-19?
• Crew Health & Disability insurance
Our crew members unfortunately affected by COVID-19 can expect their Health insurance Underwriter to cover their medical expenses and related repatriation costs. The Health & Disability Underwriters should not only reimburse sick pay during the disability the crew member's temporary COVID-19 infection, but also maintain the loss of life benefit.
2 caveats about the salary reimbursement:
First : It is important to draw attention to our Crew Members, that a pure home-stay quarantine preventing a non-affected crew member from reaching the yacht would not be considered as a temporary disability and therefore would not give right to salary reimbursement under their Health & Disability insurance plans.
Second: Likewise, if the Yacht Owner decides to employ a crew member to palliate the absence of the quarantined crew member, the P&I policy will not pick up the additional cost.
• Protection & Indemnity Insurance
That being said, our yacht Owners could find the support of their P&I Underwriter, to a certain extent when the yacht is trapped in a port quarantine situation. In this scenario, the exceptional additional operating costs could be picked up under the P&I quarantine clause. It would be a case by case assessment to review with each P&I Insurer.
• Freight Demurrage and Defence / Legal Assistance insurance
The FD&D Underwriter (optional cover on the P&I policy – also known as 'Legal expenses/assistance cover') may also be useful to the yacht Owner facing a force majeure exemption dispute which is likely to arise in most of the contracts involving the yacht operations. Therefore, considered legal advice and reasonable costs for necessary legal assistance in relation to contractual litigation, could be obtained from the FD&D/P&I team. The Yacht Owners usual legal counsel would always find great support working together with the FD&D legal team.
• Hull & Machinery / Loss of Charter / Charter cancellation insurance
There is no insurance covering the loss of charter due external cause such as the COVID-19 breakout. The rare and rather costly Loss of charter extension of the Hull & Machinery insurance policies would not cover loss of earnings which are not the direct result of a H&M physical damage.  Likewise, the few charter cancellation insurance policies available to our Charterers would not reimburse charter fees due to pure yacht quarantine scenario, since this type of policy is mostly designed to operate in case of Charterer illness/accident. If the Charterer himself/herself is unfortunately affected by COVID-19 before the charter, the charter cancellation insurance policy could reimburse the Charter fees, subject to terms and exclusion of the policy.
• Charter Agreement amendment and P&I prior consent
In order to palliate the lack of insurance solutions and avoid the lengthy and costly legal disputes on whether or not COVID-19 is or will be a force majeure case at the time of the charter this summer, our Owner and Charterer are invited to cooperate to find a solution assisted by their charter broker/manager.
Pragmatism is certainly the right stance in these difficult times.  Solutions may be found within the initial contractual frame of the charter agreement. That being said, any amendment to the main market charter agreement should not be signed without first obtaining the Yacht P&I Underwriter's consent, as the amendment can create unexpected Owner's contractual liability exposure.
If you need further guidance as to your specific situation, please do not hesitate to contact us  contact@covership.com