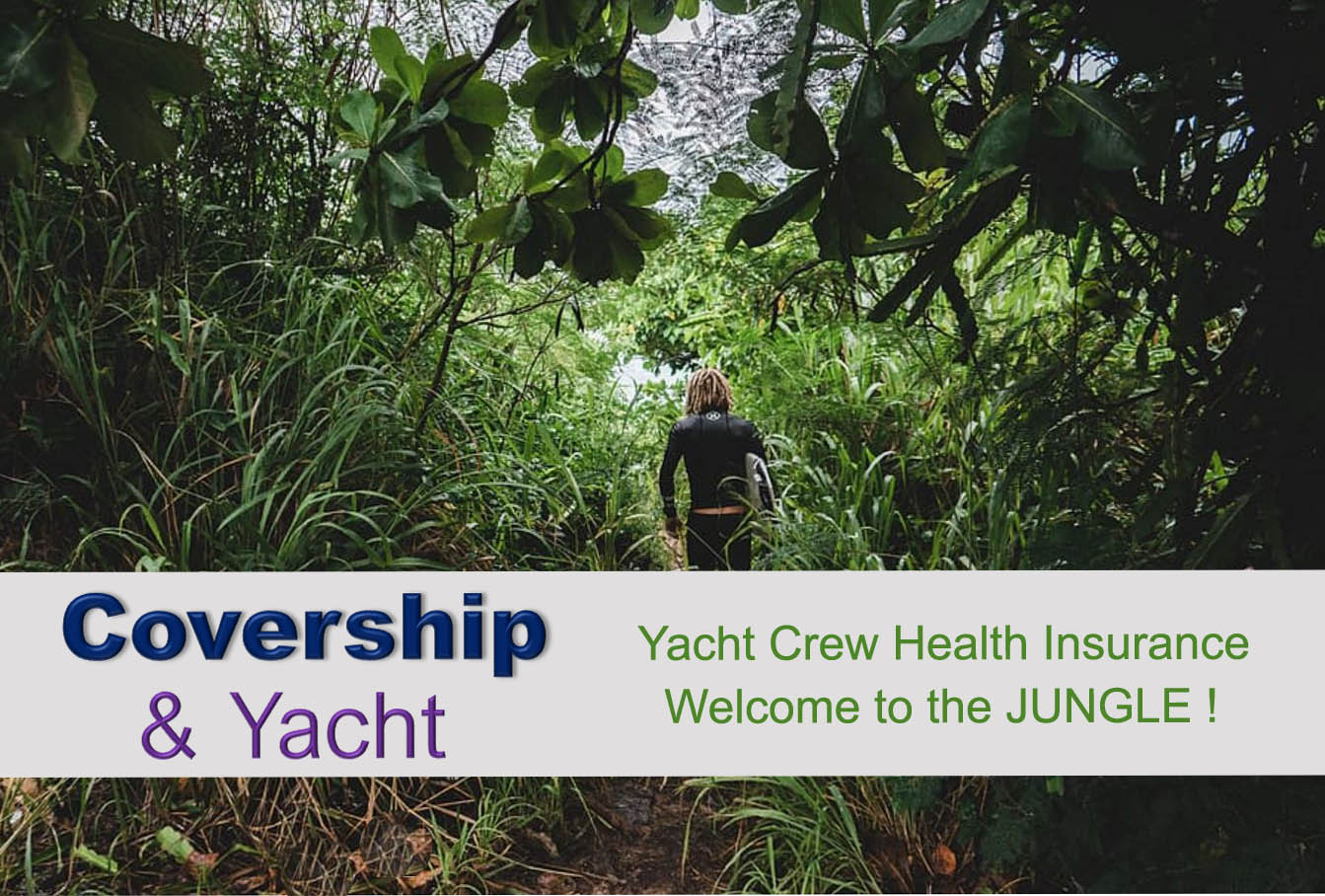 YACHT CREW HEALTH INSURANCE: WELCOME TO THE JUNGLE !
Summary
1/ Terminology jungle !
2/ A recent insurance product in our industry
3/ MLC compliance: The confusion
4/ Interaction between crew health insurance and P&I insurance
5/ Yacht Crew Member true access to care and income protection
6/ The points to be carefully checked upon when changing crew health insurance plan
7/ The future of crew health insurance plans: Towards sophistication for more well-being
8/ Our final advice
1/ Terminology jungle!
There is only one way to say HULL & MACHINERY insurance or one way to say P&I, however weirdly enough, there are plenty of ways to say 'health insurance for crew member':  you can come across terms such as of Crew welfare, crew medical, Crew health, Group Expat plans, crew accident and illness, A&D, IPMI… In this article, we will strive to guide you behind the diversity of the terminology.
2/ A recent insurance product in our industry
Although this class of insurance business have been introduced in our superyacht industry some 10 year ago only, it has now become the second yacht insurance budget, in between H&M and P&I premiums.
Two industry factors have boosted the crew health insurance market; first the positive influence the Marine Labour Convention implemented in 2013 and secondly the gradual decision of the P&I Underwriters to yield the burden of crew injury/illness claim to specialist health Underwriters.
3/ MLC compliance: The confusion
We have noted that some yachts do not have a crew health insurance in place, simply because this is not a legal obligation. Some of you would think immediately of the Marine Labour Convention but the MLC, when applicable, only requires a valid P&I certificate & extensions as the evidence of financial security vis a vis the crew access to healthcare, loss of life or long terms disability benefits, payment of 4 months salary and repatriation costs in case of shipowners' bankruptcy.
To be clear: a crew health insurance certificate is not a valid evidence of financial security and therefore is not required in case of inspection by the flag or port state control. Only the P&I matters when it comes to MCL compliance. Therefore, when a crew health insurance product states it is 'MLC compliant' this is pure marketing only. Although it creates confusion in people's mind, we cannot blame this opportunism in using the MLC argument because, we do need our crew member to be properly insured for health and income protected in case of incapacity.
4/ Interaction between crew health insurance and P&I insurance
We invite the yacht Owners that do not feel yet the necessity to provide their crew member with a proper 24/7 health and disability insurance to consider the following advice : Check your P&I certificate and/or P&I terms, most of the time you will find a warranty that primary crew medical must be in place. Avoid being in breach of this warranty as it could prove costly, ending in paying crew medical expenses yourselves.
Our second advice is a reminder that a work-related crew injury/illness medical expenses, although declared and paid in the first place by the Crew Health Underwriters, must also be declared as a conservatory measure to the P&I Underwriters in case of sequels that will inevitably lead to legal liabilities for disability compensation at some later point. Failing to declare the case to your P&I could jeopardize your cover.
5/ Yacht Crew Member true access to care and income protection
There are still too many basic (poor) crew medical insurance product proposed in the market, restraining cover to emergency medical situation only, with no income protection at all. There is no valid reasons why the yacht crew staff should be less protected than any shore personnel.
A genuine protection and access to care should extend when Crew are off duty or on paid leave, access to routine GP and routine dental and vision care and include income protection such as loss of life and short- and long-term disability benefit.
As an industry, we must promote the protection our crew members from misfortune because seamanship is a risky job and when you are young you do not think about covering your back.
Make certain to review the Crew medical and disability package before signing the SEA to make sure there is sufficient compensation if anything goes wrong.
6/ The points to be carefully checked upon when changing crew health insurance plan
MEDICAL AND REPATRIATION
Absence of pre-existing condition exclusions
The benefit period for claim ( important to check if and how long your claim will be paid in case the management decides to change heath plan for the group…as certain plans stop paying whist new plan exclude preexisting conditions….)
Absence of COVID-19 /

Pandemic exclusions

(basic crew health policy maybe inclined to insert this new exclusion)
Maximum annual medical and repatriation benefit per crew
Deductible / co pay
routine vision, dental, routine GP, maternity benefits
LOSS OF LIFE AND PERMANENT TOTAL OR PARTIAL DISABLEMENT
Due to accident AND illness benefit
Amount of benefit
TEMPORARY TOTAL DISABLEMENT (Salary replacement)
Duration preferably 365 days or above
Deductible in days
% of the salary reimbursement
Limitation of indemnity per week/days
7/ The future of crew health insurance plans: Towards sophistication for more well-being
We would also look at other benefits and in particular if there is a true access to care with online personal platform, mental health support, travel security service (some insurance products do offer all these supports that ease the crew to feel good).
Although no-name crew insurance policies are convenient for management and perhaps slightly less expensive, we consider them impersonal and lacking of obvious need for privacy. True access to care must be personal, with a named policy providing individual crew member login and password in order to access their private medical platform.
In these times of COVID-19, we believe that crew health plans that propose video medical consultation have the greatest prospect of gaining market share in this industry. This rare product has proven very useful during the current mobility restrictions.
8/ Our final advice
We hope that this information is helpful when considering your crew benefits.  Shifting health insurance plans is not rare in our industry, especially in these days when Owners are looking for alternative Hull and Machinery insurance due to drastic premium increases. The new insurance broker usually proposes the full package of insurance, including a new health insurance plan… be aware of what you sign on this occasion!
We have not developed the Crew pension aspect that has been recently revived by the recent French regulation, that could be a future article.
Here at COVERSHIP, we have significant experience in this class of insurance, and we will be happy to assist you in making the right choice, our panels of health insurers are broad and of optimum quality.
Vincent Huens de Brouwer
Superyacht insurance broker
 COVERSHIP & YACHTS : Insurance for a Yachting Nation !
Please like if you like this article ! (we will take this as an encouragement to produce more articles)
Click and follow the COVERSHIP Linkedin page to receive more news on superyacht insurance
Past articles :